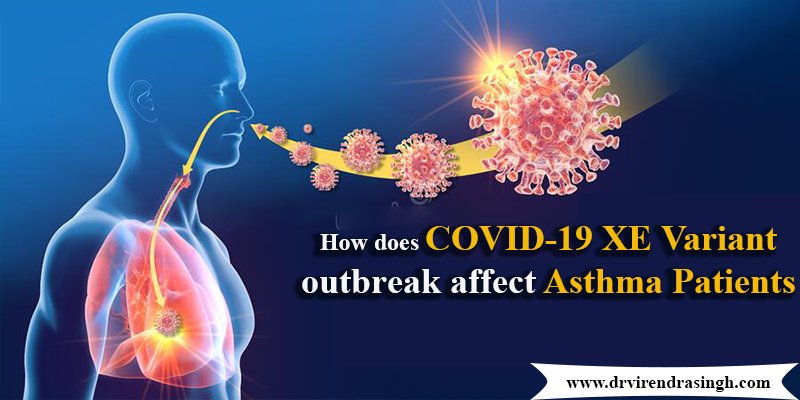 Recently, new cases of covid-19 XE variant have been reported in Maharashtra and Gujarat. According to the WHO and Dr. Virendra Singh, The United Kingdom becomes the 1st country to report cases of this new variant. It has raised various concerns about the severity, symptoms of this variant in everyone's mind. Before understanding the symptoms and severity of this virus let us understand what XE variant of this virus is and how does COVID-19 XE Variant outbreak affect Asthma Patients?
How does COVID 19 XE Variant outbreak affect asthma patients? Dr. Virendra Singh
Covid -19 XE variant is the combination of two omicron variants – BA.1 and BA.2. According to recent studies it has been found that it  spreads 10 times faster in comparison to the original virus and is bit more infectious. Also you can visit: Covid-19
Is the XE variant a severe variant?
According to the recent reports by the experts the transmission rate of this virus is quite higher than the delta variant. However, There is not much evidence regarding increasing the rate of hospitalization and mortality. As per the study conducted by expert Dr. Virendra Singh vaccination drive has reduced the severity of this strain and helped in achieving the less hospitalization rate.
To Know more: COVID-19 Third Wave | Is this the last wave of COVID-19
Moreover, studies have also shown that even after the spike in cases in South Africa, vaccination has resulted in less severe illness and thereby reducing hospitalization rate.
Symptoms of the COVID- 19 XE Variant
Well, symptoms of covid-19 differ from person to person. Although, here are some of the common symptoms that can be found in person infected from XE variant:
Fatigue
Lethargy
Fever
Headache
Body pain
Sore throat
Respiratory distress, etc.
Precautions of Covid-19 XE Variant
Consult with Dr. Virendra Singh for the most up-to-date information of Covid-XE Variant and How does COVID-19 XE Variant outbreak affect Asthma Patients?
Visit: What is Omicron | How is Omicron dangerous for Asthma Patients?
Follow social distancing rules from others to stop the spread of the Covid-19 XE Variant, although if the other person doesn't seem unwell.
Always wear a mask when you're out in public.
Avoid close places in favor of open, well-ventilated ones.
Wash your hands repeatedly for that, use soap or an alcohol-based hand sanitizer to wash your hands.
When it's your turn, bring vaccinated. Vaccination must be done rendering to local guidance.
When you cough or sneeze, cover your nose and mouth with your bent elbow or a tissue.
If you're unwell, stay at home.
How does COVID 19 XE Variant outbreak affect asthma patients?
According to Asthma Expert, studies indicate that most people with asthma may be at slightly higher risk of serious illness from this virus than the general population, especially if they are mourning from non-allergic asthma. But the risk is significantly less than for other diseases, which shows that asthma patients are not at higher risk from the Covid-19 XE variant.
However, anyone whose asthma is poorly controlled is considered at higher risk of severe disease or admitted to a hospital with coronavirus.